As part of this project, we commissioned a small number of artists to create home-made maps that represented their personal journey to or through Live Art and Feminism. We set no criteria for the map-making.  We only asked that the final images or documents be led by the person's own knowledge, experience and ideas. The maps comprise an important part of this Study Room Guide, reflecting the multiplicity of voices that we sought to encourage in creating space for discussion throughout this project. The maps were designed to point or lead viewers on to different resources in the Study Room, but also to represent where there might be gaps or absences in the existing material – thus functioning as provocations for future research, and archival representations in and of themselves.
Tania El Khoury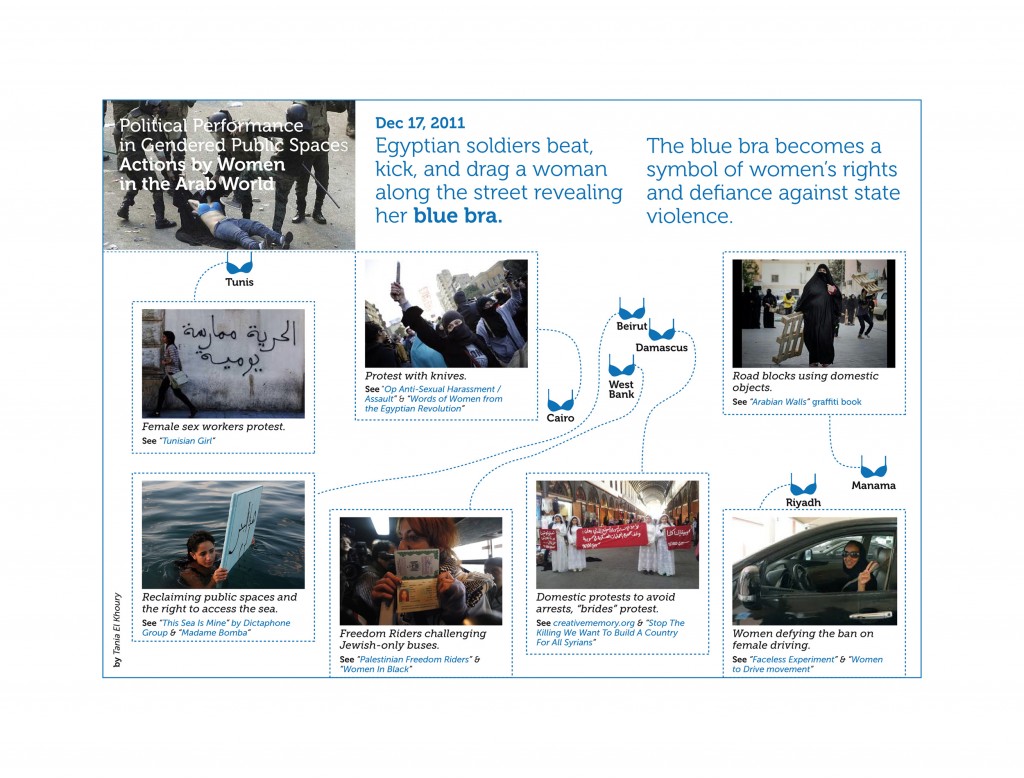 Tania's map illustrates actions by women in the Arab world representing political performance in gendered public spaces.
---
Geraldine Pilgrim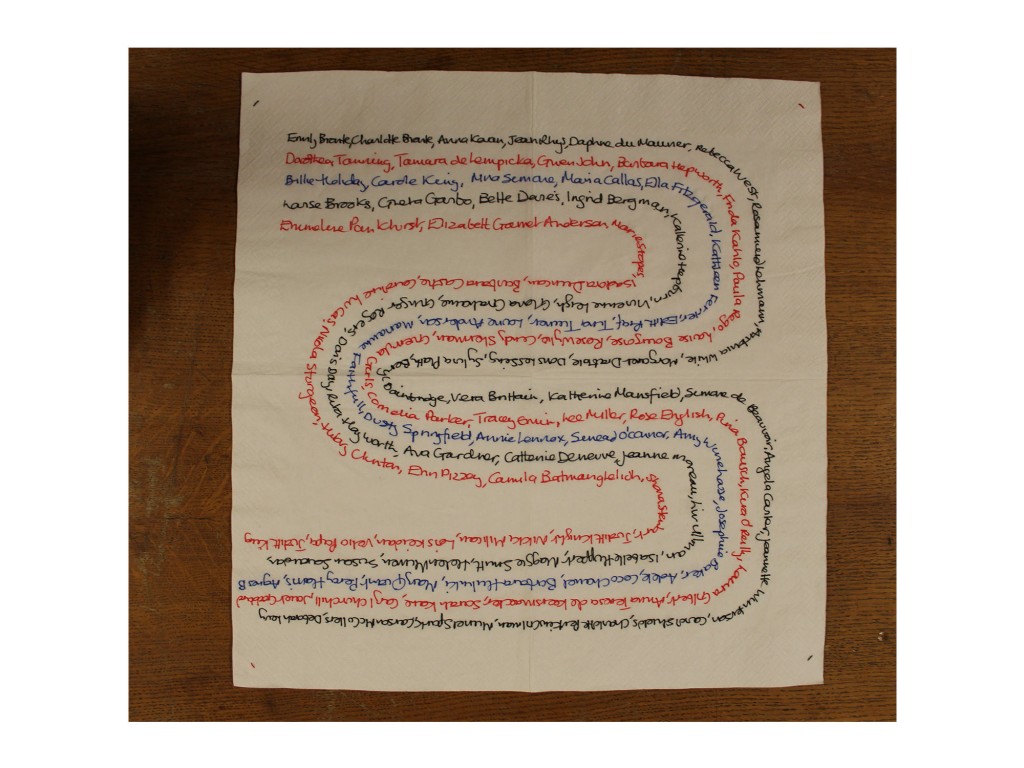 " My map reflects the women who have most influenced me throughout my life. From the writers, artists, singers, actors, performers, dancers to the fashion designers, politicians, and colleagues – these are the women who have helped form who I am and I thank them."
---
 Katherine Araniello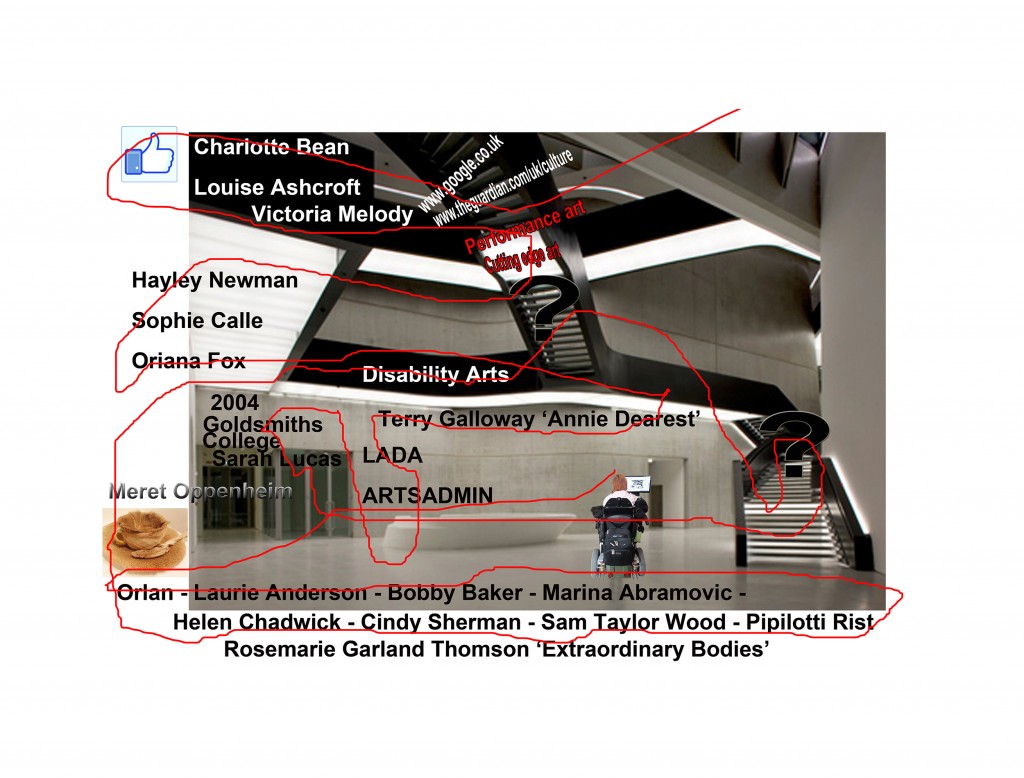 Katherine maps her journey through feminist artists and other influences whilst contemplating the inaccessibility of the gallery space.
---
Anne Bean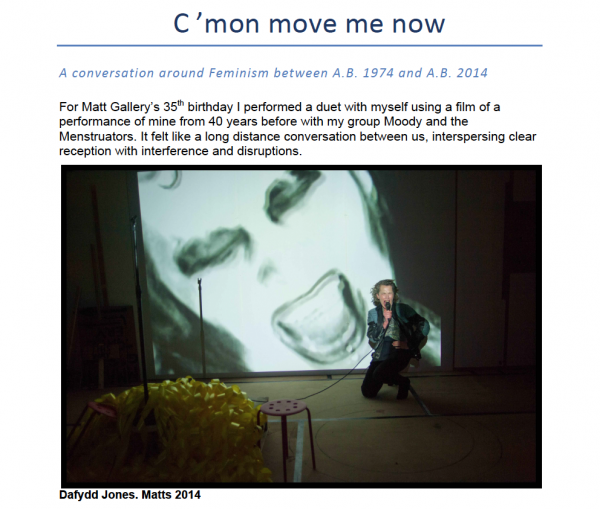 Anne's Map is a conversation around Feminism between A.B. 1974 and A.B. 2014.
Click on the image to access the full document.
---
 Rona Lee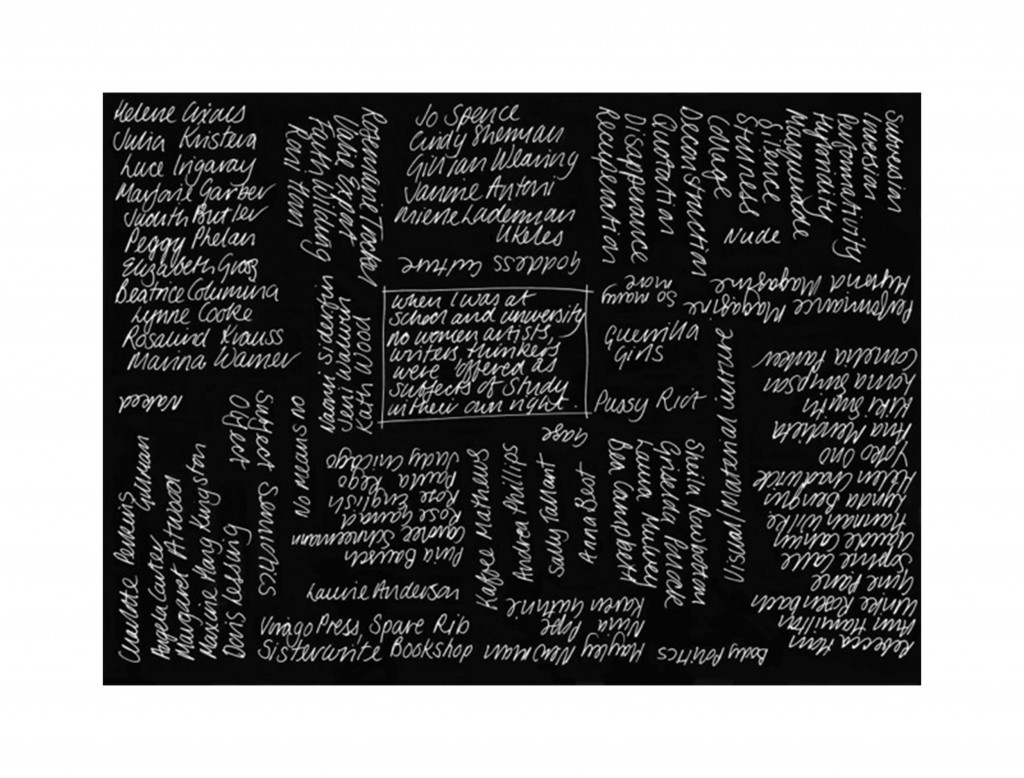 "When I was at school and university no women artists, writers, thinkers were offered as subject of study in their own right."
---
Lois Keidan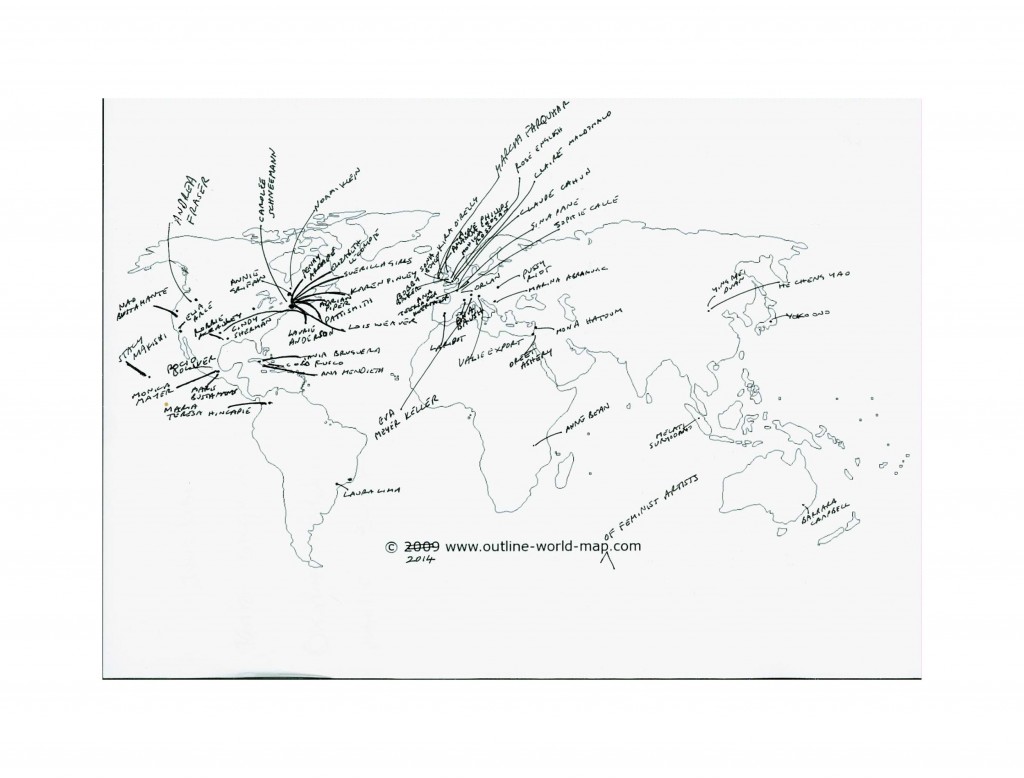 "My map is a map of the world pointing to the places where the women artists who have most inspired me are from or based."
---
Helena Walsh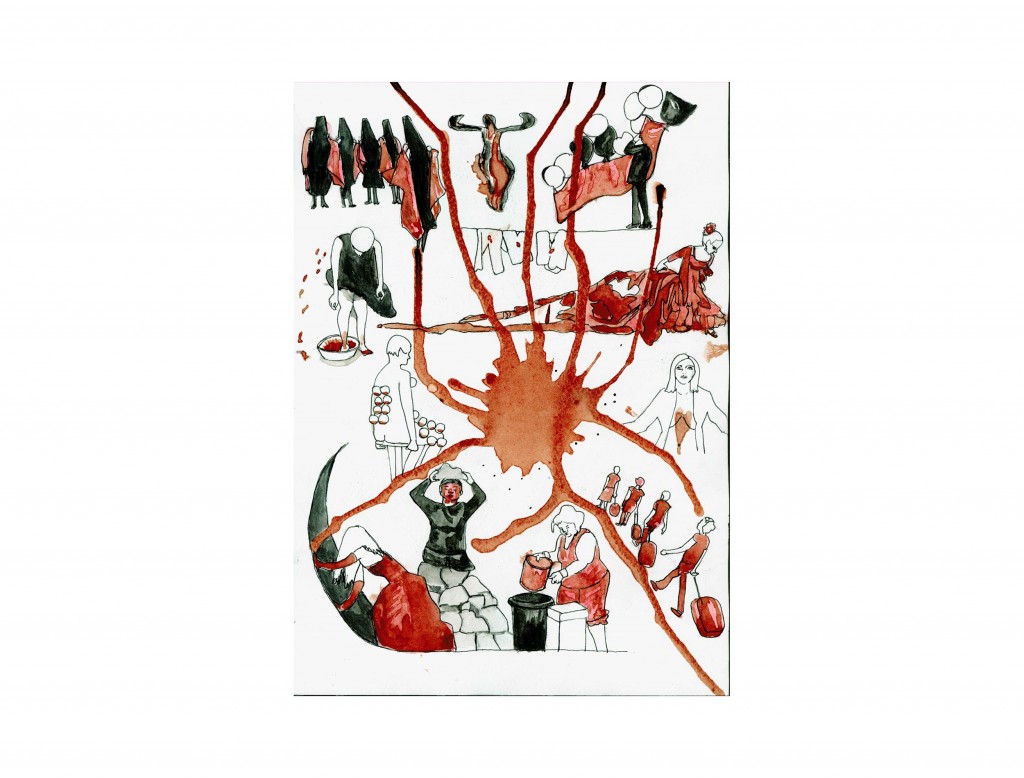 Helena's map represents artists who have influenced her drawn with her own menstrual blood.
---
Katy Baird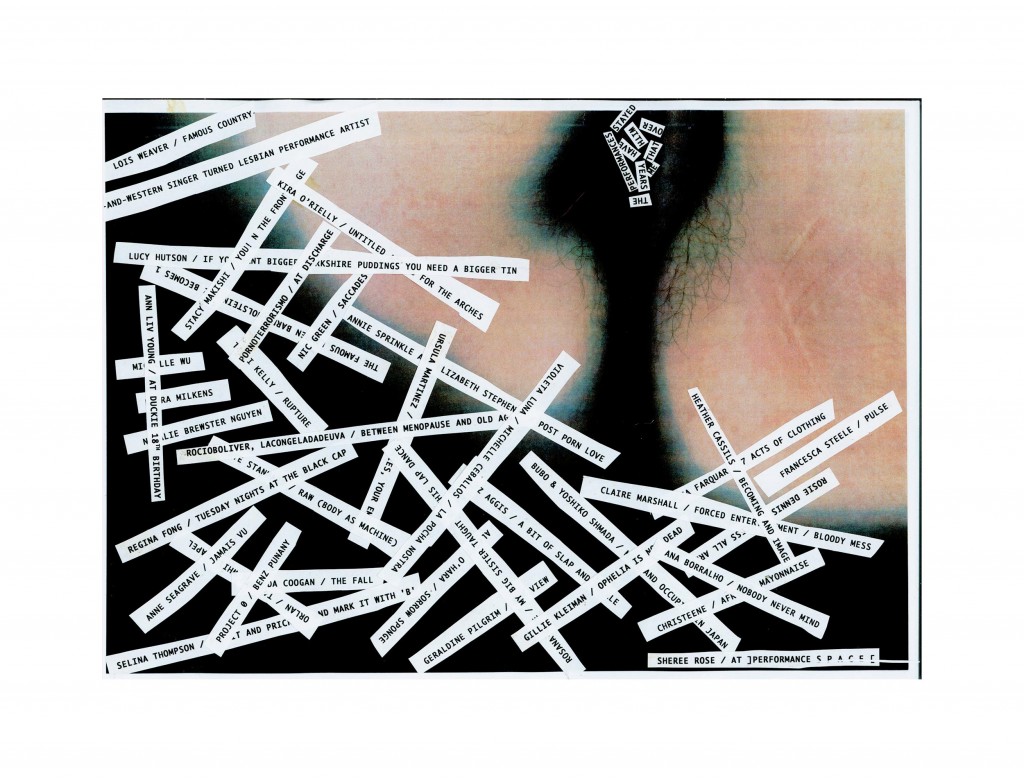 "My map is filled with the performances, places and artists that have stuck in my memory over the years"
---
Bobby Baker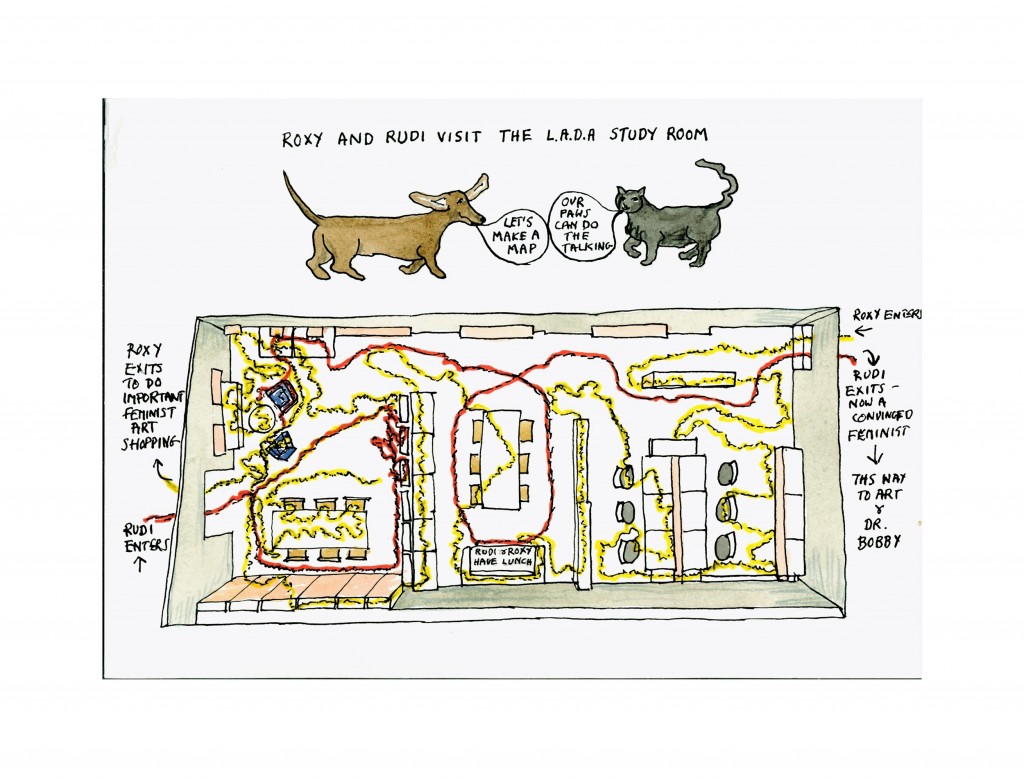 "Dr Bobby (Dr Bob to friends) is currently engaged on an epic expedition to explore East London and the lost worlds of the mental health 'system'. Her quest is to discover the buried and concealed art treasures, the spectacular talents and the long fabled founts of all wisdom of those who are experts by experience of this world. Her trusty team, Rudi of Sidcup and Roxy of Holloway, accompanies Dr Bob. Team Daily Life enjoyed their visit to the LADA Archive and picked up some unusual tips to help them on their way."
---
Jamila Johnson-Small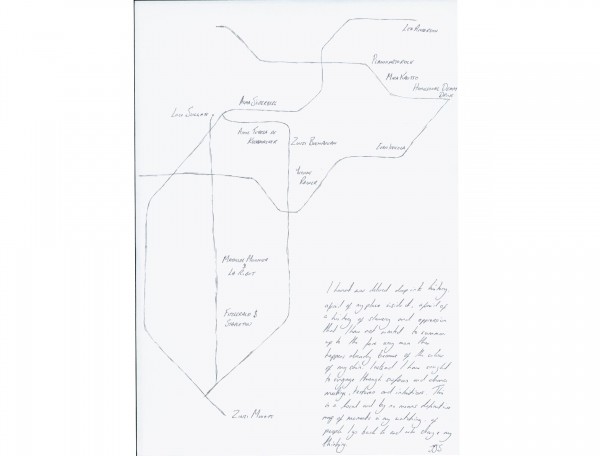 "I haven't ever delved deep into history afraid of my place inside it, afraid of a history of slavery and oppression that I have not wanted to summon up to the fore any more than happens already because of the colour of my skin. Instead I have sought to engage through surfaces and chance meetings, textures and intuitions. This is a local and by no means definitive map in my watching of people I go back to and who change my thinking."
---
Make Your Own Map
Take an A4 piece of paper.
Place the pen, pencil or paint brush at the point where you began your journey into feminism and Live Art and see what happens.
Cross reference your map with resources in the Study Room. If there are no materials that relate to points on your map email LADA to request materials.
When your map is complete please send to LADA to be displayed below.
---
Bio's
Tania El Khoury
Tania El Khoury thinks that being a solo artist is very lonely so she will refer to herself as "we."
We create immersive and challenging performances in which the audience is an active collaborator.
We see art as a political and relational practice so our audience is often an intimate group.
We perform in spaces ranging from the British Museum to a cable car and an old church in Beirut once used as a military base during the Lebanese civil war.
We don't like neutral spaces, we don't like being neutral.
We prefer real people's feedback to art critics but just in case it's important for you, we recently won the Total Theatre Award for Innovation and the Arches Brick Award.
Geraldine Pilgrim
Geraldine Pilgrim – sitespecific director/designer and installation artist – works across theatre and the visual arts and is known for her evocative installations and site-specific performances, which create a contemporary dialogue with occupied and deserted buildings, historic houses and landscapes. She trained as a fine artist and theatre designer and is an Artsadmin Artist, a Complicite associate, an associate lecturer at Wimbledon College of Arts and a visiting lecturer at Goldsmiths College and Central St Martins.
Working with the history – imagined and real – of a space, she specialises in creating installations and performances in unusual buildings and landscapes responding to the architecture of the site for inspiration and narrative. Her work has taken place in empty office blocks, schools, hotels, swimming pools, factories and hospitals as well as castles, stately homes and public parks.
www.artsadmin.co.uk/geraldine-pilgrim
Katherine Araniello
Katherine Araniello is a London-based artist using video, digital imagery and performance art to respond to contemporary themes around disability.
She creates frameworks that challenge and alter preconceptions through subversive humour and presenting disability in fresh discourses.
Anne Bean
Anne Bean has been working in installation and performance for over 40 years. She has received numerous awards for her practice including the Time Out Performance Award for her long-standing contribution to live art:
In 2009, she received a British Council Creative Collaborations and Visiting Arts award to bring together and create work with women from Iraq, Croatia, Israel and N. Ireland, resulting in an ongoing project PAVES, most recently, 2014, collaborating with a young Kurdish artist at Queen Mary University, London. In 2010 The Tate Gallery Research department and LADA granted her a Legacy: Thinker in Residence Award, which resulted in a major work, TAPS, in which Anne invited over 80 sound and visual artists, all of whom have been engaged in improvisatory experimental practice, to contribute to a collaborative piece. This award has also inspired an ongoing work A Transpective, about ones own legacy to oneself shown in Venice 2013. Several of her drawings were represented in the MIT journal of Performance and Art, PAJ May 2014. The wide range and fecundity of her work is captured in Guy Brett's quote below
"Reading Anne Bean's CV is like following a continuous performance, a continuous response to the world… a 'magicification' of the world. The panoply of places she has worked, times of the day or night, interiors, exteriors, seasons, publics, materials, concepts, tools, is astonishing: all shifting but all attuned to unique situations." – Guy Brett: Shadow Deeds (2006)
Rona Lee
Rona Lee is a fine artist whose work encompasses a range of media; photography, video, sculpture, performance and digital media, alongside other forms of engagement and intervention.
Operating between gallery and other settings her work is research led and shaped by the context, geographic, technological or epistemological, to which it is a response.
Recent projects include a five year dialogue with geoscientists involved in mapping the deepest and most unknown parts of the earth's surface – the sea bed.
Process and interaction are central to her practice. She is especially interested in the interplay of material and symbolic along with phenomena that cannot be easily regulated or contained.
Lois Keidan
Lois Keidan is the co-Founder and co-Director of the Live Art Development Agency, London. From 1992 to 1997 she was Director of Live Arts at the ICA, London. Prior to that she was responsible for Performance Art at Arts Council of England, and previously worked at the Midland Group, Nottingham and Theatre Workshop, Edinburgh.
Helena Walsh
Helena Walsh is a live artist from Co. Kilkenny Ireland. Based in London since 2003, and completed her Masters in Fine Art at Chelsea College of Art and Design in 2004. Helena has showcased her work at many established venues such as Bodily Functions, Cork, The National Review of Live Art, Glasgow, The Zaz Festival, Israel, and Art Radionica Lazereti, Croatia.
In November 2010, she performed at Right Here, Right Now, a showcase of Ireland's prominent live artists in Kilmainham Gaol, Dublin. In 2012 Helena co-curated LABOUR; a live touring exhibition of 11 female live artists resident within or native to Northern and Southern Ireland. Helena received a Doctorate Award from the Arts and Humanities Research Council in 2009 to undertake her practice-based PhD in the Drama Department of Queen Mary University of London. Her Doctorate was completed in 2013 and explores Live Art, femininity, and Irish national identity.
Katy Baird
Katy Baird is a London-based artist and activist who often finds herself in uncomfortable situations of her own making. Her solo work is intimate and autobiographical, reflecting on gender, class and sexuality.
She has performed at Live Art festivals, venues and galleries across the UK as well as squat parties, clubs and raves.
Bobby Baker
Bobby Baker is a woman, and an artist, and is acclaimed for producing radical work of outstanding quality across disciplines including performance, drawing and multimedia. She is the Artistic Director of Daily Life Ltd, part of the Arts Council National Portfolio, based in Stratford, London.
Visit Team Daily Life Ltd and the Roxy and Rudi Roadshow:
Jamila Johnson-Small
Jamila Johnson-Small is a London born and based artist. She collaborates with Mira Kautto as immigrants and animals, a conceptual dance outfit of two. They work between London and Helsinki. She has another ongoing collaborative project with Alexandrina Hemsley, Project O.