The active ingredients of the Restock, Rethink, Reflect Three research, dialogue and mapping project.
Long Tables on Feminism and Live Art
Two free open performance-installation-roundtable-discussion-dinner-party events designed to facilitate dialogue on the subject of Feminism and Live Art.
After advertising the first event on LADA's website, we were surprised to find over 140 people sitting around the table at LADA on 16 October 2013. The evening began with presentations by special guests Adrian Sina on early avant-garde women artists, Poppy Jackson and Nina Arsenault on their aGender residency at ]performance s p a c e[, and Phoebe Davis on Nailwraps: Influences. One of the highlights of the discussion was a provocation by Jennifer Doyle to come to table and name the feminist Live Artist that we knew or had encountered.
The second Long Table on 25 April 2014 continued on the theme of women and feminists editing ourselves into history.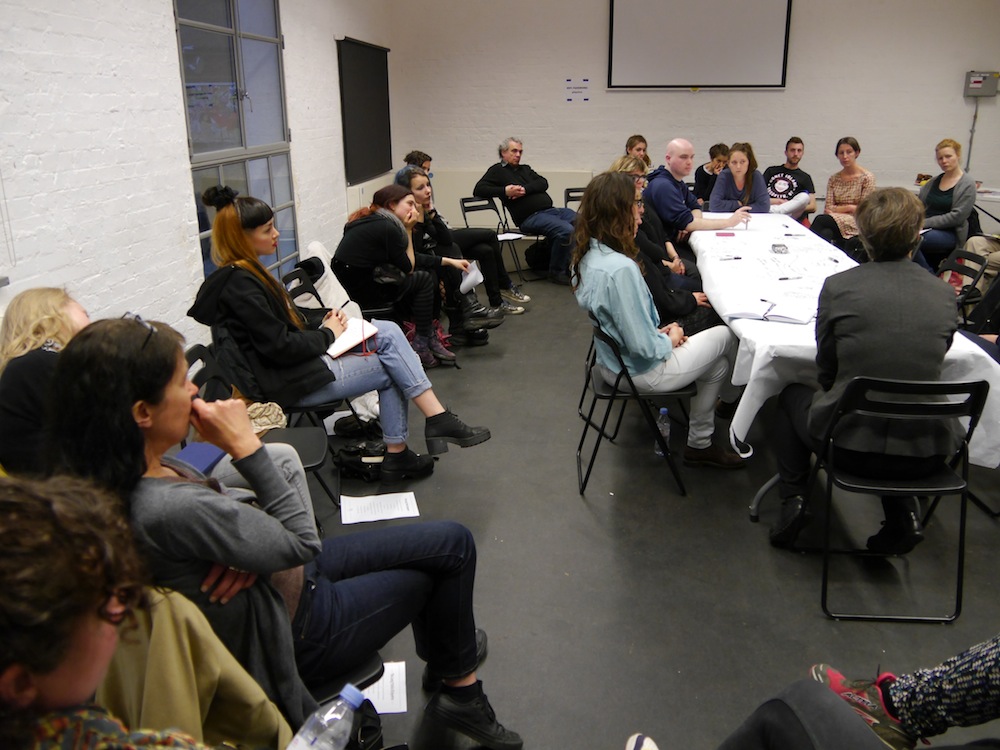 At both events, guests were briefed on Long Table etiquette by their host, Lois Weaver, before being invited to begin the only course on the menu: conversation. We collectively discussed how feminist issues continue to be urgently relevant in our lives and practices, which artists matter to us, and who we want to see represented in history.
Long Table Tool Kit
A Long Table combines a relaxed dinner table atmosphere with a conventional public forum in order to encourage informal conversation on serious topics .
What you need
2 banquet sized tables
White paper table cloths and marking pens for writing on the table cloth
12 (and only 12 chairs) around the table
Chairs for the audience scattered in a circle some distance from the table
No food necessary but refreshments can be made available
What you will do
Invite people to a Long Table on …..(a selected topic)
When they arrive encourage them to sit at the table or one of the surrounding chairs
To begin, one person takes the role of host and describes the protocol, announcing the duration (2 hours is best) and reading though the etiquette of a long table (downloadable on publicaddresssystems.org).
Key points include:
Anyone can come to the table
You must come to the table to speak
Only 12 chairs at a time
No moderator. The table moderates
Some things that might happen
The conversation will go on and off topic
There might be silences and awkwardness
When time is called and the table is over, people will want to stay in the room and continue talking informally
Coffee Tables
Three focussed discussion events with invited guests, designed to uncover, recover, and make visible hidden histories (and pre-histories), activities and sensibilities of the present and future in feminist live art.
Diversity Now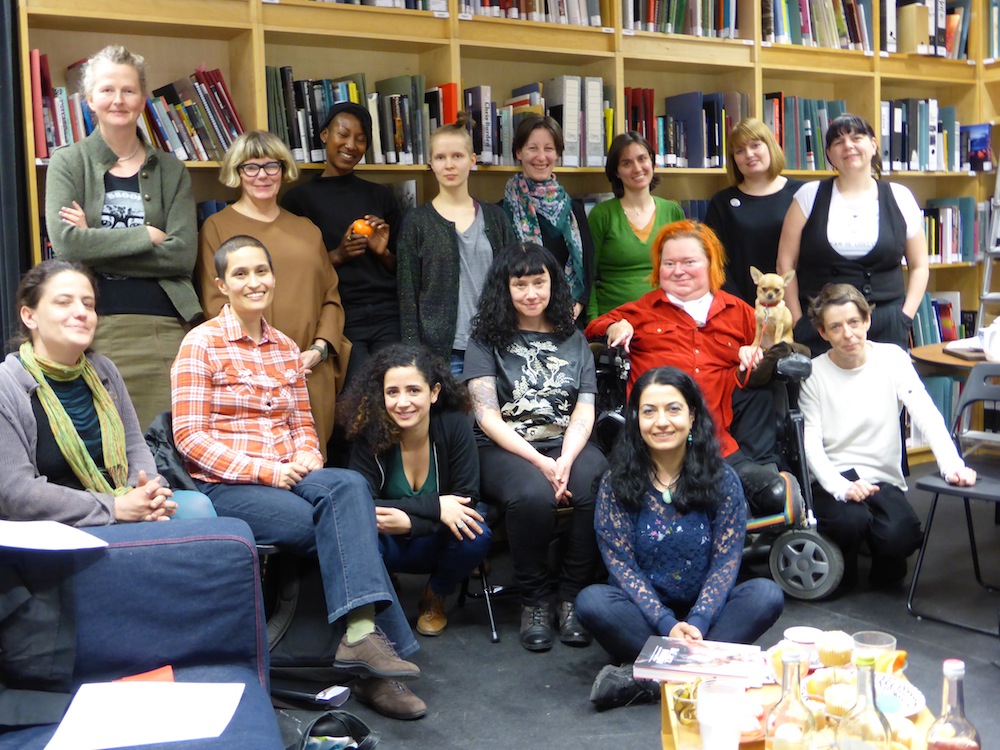 On 14 March 2014 we held a Coffee Table at LADA on the theme 'Diversity Now' with Marisa Carnesky, Shabnam Shabazi, Tania El Khoury, Noemi Lakmaeir, Rajni Shah, Katherine Araniello, Katy Baird, Helena Walsh, Mary Paterson, and Mira Kautto and Jamila Johnson-Small. The conversation centred on questions of how to continue to rearticulate feminist/practice, or as Helena Walsh said, 'how live art speaks feminism' in the present.
Early Days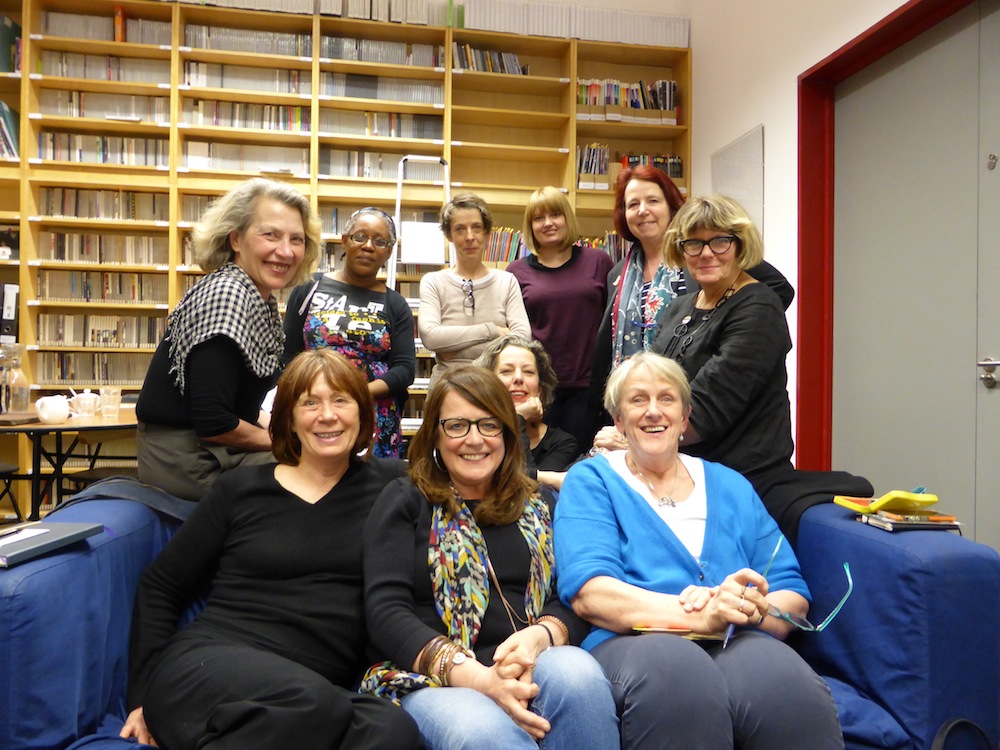 On 2 May 2014 we held an 'Early Days' Coffee Table at LADA with early trailblazers and advocates of feminist live art forms in the UK Hilary Westlake, Farhana Sheikh, Susan Croft, Rona Lee, Sonia Boyce, Anne Bean, Claire MacDonald, Geraldine Pilgrim, and Bobby Baker. The group discussed emerging in the cultural landscape of the 1970s and early 1980s in which women artists were often rendered invisible and ignored by institutions of art and education. For Sonia Boyce, this led to a realisation that 'One has to insist on the body, rather than resist the body.'
Feminism, Live Art, and the Archive
On 9 June 2014 we held a Coffee Table discussion at Queen Mary on 'Feminism, Live Art, and the Archive' with Holly Ingleton (Her Noise Archive), Susan Croft (Unfinished Histories), Katy Deepwell (n.paradoxa), Alice Ross, Bernard G Mills and Anne Tallentire (Monica Ross Action Group), Bettina Knaup (re.act.feminism), and artists, researchers/historiographers Oriana Fox, Claire MacDonald, Sarah Feinstein and Geraldine Harris. The conversation focused on feminist uses and reconfigurations of the archive as a tool for visibility.
Coffee Table Tool Kit
A Coffee Table is an informal conversation with a small group of participants who have issues and experiences in common.
What you will need
An area when you can gather chairs in a circle around a low table
Some delicious and artfully presented cakes and treats
Tea, coffee and juice
A topic of conversation
What you will do
Invite from 5-10 people who have some connection to your specific topic
You will gather for about 2 hours, drink coffee, eat cake and have a relaxed conversation around the circle
What might happen
Think of ways to reconvene
Imagine way to capture and/or further the conversation
Cocktail Seminar
Who said academic discussion can't go with a cocktail?
On 9 June 2014 we held an open evening on 'Feminism, Live Art, Archives and the Academy' at Queen Mary, University of London. The event began with the launch of the publication re.act.feminism ♯2: a performing archive (2014), edited by Bettina Knaup and Beatrice Ellen Stammer. Bettina Knaup presented highlights from the book, which was developed from the re.act.feminism exhibition, an expanding, temporary and living performance archive that travelled through six European countries from 2011 to 2013. Bernard G Mills and Alice Ross also presented on the life and legacy of pioneering artist and feminist Monica Ross.
Later, the evening shifted to a panel discussion and public seminar with provocations from scholars Catherine Silverstone, Jen Harvie, Geraldine Harris, Kim Solga, Caoimhe McAvenchey, Eleanor Roberts, and Lois Weaver on feminism and the academy.
Cocktail Seminar Recipe
Select a topic and invite a panel of experts to present their particular point of view
Invite people to come at the cocktail or happy hour
Serve exotic drinks preferably with paper umbrellas and a variety of fruit
Once everyone has a drink, conduct a conventional (or unconventional) panel discussion
Make sure there is enough provisions for a cocktail for the road
Wikipedia Edit-a-thon
On 25 April 2014 we held a Wikipedia Edit-a-thon on Live Art and Feminism. The event was free and open to the public, and trainers from the charity Wikimedia UK were present to offer guidance and share skills on editing Wikipedia. Using the Study Room resources at LADA, we were able to enhance the public visibility of important women and feminist artists where they were not previously represented (either adequately, or at all). Participants also left the edit-a-thon with the practical skills to continue to take history (or herstory) into their own hands, and use openly editable web-based platforms as a tool for reorganising power and cultural canons.
We created entirely new articles on:
And developed the already-existing articles on:
More information on the event can be found at the Wikipedia project webpage.
Wikipedia resource kit
Determine an underrepresented area that you want to populate on Wikipedia
Acquire and space that has tables and internet access
Invite people to a day-long meetup
Consult the Wikipedia page on' how to run an edit-a-thon'
I Wasn't There: Screenings
I Wasn't There was a series of free screenings of performance documentation and works to camera held in LADA's Study Room and curated by Aaron Wright.  Selected work included rare footage of performances by Nao Bustamante, Bobby Baker, Susan Lewis, Karen Finley, and others. This series invited viewers to encounter or revisit works from rich histories (or herstories) of feminist live art practice – giving just a flavour of the many accessible materials in the Study Room for looking back and moving forwards.
Below is a list of the full programme of work screened in I Wasn't There.  It can also be can be read online and downloaded as a pdf or viewed in the Study Room.
How to propose a LADA Study Room Screening
Select a theme for your screening event
Contact LADA with a proposal saying what your theme is and why
Research the DVD and Digital Files in the Study Room catalogue related to your theme
Contact LADA for additional recommendations if required
Select a date and invite an audience to the Study Room